Abilities are combat moves in Sector Six, you must use them to defeat enemies.
Apocalypse abilities Edit
Missile Strike
Piercing Lasers
Shards Of Chaos
Death From Above
Unstable Shield
Shatter
Overload
Era's End
Rapid Fire Mode
Cataclysm
Aggression
Titan abilities Edit
Concentrated Fire
Resurrect Armour
Swarm Control
Searing Beam
Super Shield
Entropic Fracture
Entropic Mission
Black Rain
Guardian Of A Thousand Worlds
Creation Of Energy
Phase Recognition System
Resistance
Carrier abilities Edit
Spread Mines
Detonate
Assemble Obelisk
Bladed Mine
Heavy Shield
Attract Mines
EMP Grenade
Nine Bladed Mines
Awakening Of Inner Power
Channel
Ionize
Capacity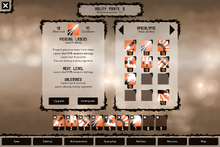 Ad blocker interference detected!
Wikia is a free-to-use site that makes money from advertising. We have a modified experience for viewers using ad blockers

Wikia is not accessible if you've made further modifications. Remove the custom ad blocker rule(s) and the page will load as expected.